19. rakenduslingvistika kevadkonverents 2020 / 19th Annual Conference of Applied Linguistics 2020
VARSTI ANNAME TEADA
TO BE ANNOUNCED
23.-24. aprill 2020 / 23-24 April 2020, Tallinn, Estonia
Registreerimine / Registration Form
INVITED SPEECHES (slides)
Kathrin Kunkel-Razum 2020
Simon Krek 2020
Jane Klavan 2020
Gabriele Pallotti 2020
Kutsutud esinejad / Invited speakers
KAVA JA TEESID / PROGRAMME AND ABSTRACTS
Kava / Programme 2020
Teesid / Abstracts 2020
Tähtsad kuupäevad / Important dates:
15. märts / 15 March 2020: teesid / abstract submissions via EasyChair 

(max 2500 symbols)



25. märts / 25 March 2020: teeside hindamine / reviews of abstracts
22. aprill / 22 April 2020: registreerimine / registration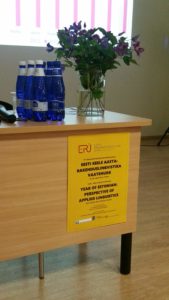 Kevadkonverents on pühendatud eesti keele aastale, tähistades ühtlasi Eesti riigikeele 100. sünnipäeva.
Ootame ettekandeid ja postreid, mis käsitlevad ja lahendavad paljusid keeleprobleeme eri valdkondades:
keeleõpe ja keeleomandamine
globaliseerumine, mitmekeelsus ja mitmekultuurilisus
leksikograafia ja leksikoloogia
korpuslingvistika ja keeletehnoloogia
tõlkimine
keelekorraldus ja keelepoliitika
ametisuhtlus
meediakeel ja avalik suhtlus
sotsiolingvistika ja psühholingvistika
kultuuriline antropoloogia
kognitiivteadused
jne
Konverentsi töökeeled on eesti ja inglise keel.
The Conference is devoted to the Year of Estonian, celebrating the 100th anniversary of Estonian as the official language.
We expect papers and posters focusing on various domains of Applied Linguistics and solving different problems:
language learning and language acquisition
globalization, multilingualism and multiculturalism
lexicography and lexicology
corpus linguistics and language technology
translating
language planning and language policy
business and professional communication
language in the media and public discourse
sociolinguistics and psycholinguistics
cultural anthropology
cognitive sciences
etc.
The languages of the Conference are Estonian and English.